FRIENDS OF THE OLD SEED HOUSE GARDEN
NEWSLETTER 2018
Strolling through the Old Seed House Garden is a special treat anytime, but thanks to the efforts of our volunteers, this growing season was especially beautiful.
Major Achievements for 2017:
Canada 150th Tulip Celebration held on May 7: Mayor, Town Councillors, Georgetown Children's Chorus, and members of the public in attendance.
Young's Community Window and the Gellert Centre were decorated for the 150 Garden Celebration Event.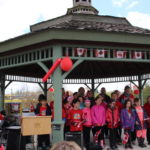 Garden Projects – mulch added to all garden beds, entry garden revamped, Rose of Sharon trees replaced, new posts and plaques installed, border and edging by bridge, lily garden around gazebo replanted, magnolia garden borders added.
Work by Town Parks Dept. – major gazebo repairs completed;  installation of  3 wrought iron benches, one donated. Working with volunteers in late October, the shrubs and grasses in the beds outside the walled garden were pruned, and culled.
Winter Wonderland – Once again volunteers from Light Up The Hills festooned the garden with their wonderful displays. Many families enjoyed magical evenings strolling along the garden paths.
Looking Ahead:
Special Spring Clean Up and Planting Days are coming soon.
Discussions about more art in the garden, improvements to paths and flower beds etc. will be part of the Friends' upcoming mission. We eagerly welcome any new volunteer garden lovers to our group!  More help is always needed.
Our friendly and fun AGM   Tuesday March 13  at 1 PM, is a great opportunity to come and learn more about us. Please contact us to get in touch.
In the heart of Georgetown, Ontario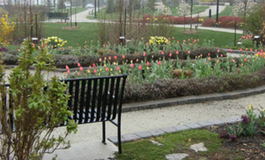 The garden is located at 135 Maple Avenue in Georgetown, Ontario. Plenty of free parking is available on-site; the parking lot is located off of Maple Avenue just north of Guelph Street (Hwy 7).
Map & directions

»
About Friends of the Old Seed House Garden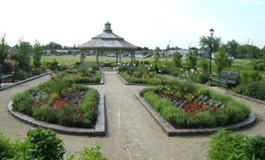 Membership in The Friends of the Old Seed House Garden is open to anyone. It is a registered charitable organization and works in partnership with the Town of Halton Hills.
Learn more about us

»
The Old Seed House Garden: Our Story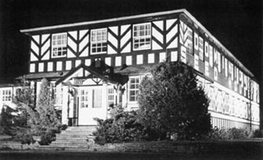 Dominion Seed House was one of the largest mail order suppliers in Canada. The iconic mock Tudor building was a landmark in Georgetown and a tourist attraction in its own right.
Learn More

»
Copyright © 2013 The Friends of the Old Seed House Garden