FRIENDS OF THE OLD SEED HOUSE GARDEN
FALL NEWSLETTER 2018
Winter is fast approaching, and the many flower beds have been given their fall clean up by our hardy crew of volunteers. Soon a blanket of snow will cover the ground, with the taller perennials standing up to provide interest and texture.
Now we can enjoy the colourful 5 new birdhouses in the trees bare of leaves, and soon delight in the magic created by the December Christmas Lights Display (Dec. 1-Jan. 1) installed by dedicated volunteers with our Light Up The Hills partners.
Accomplishments 2018:
Tuesday morning volunteers diligently worked at tasks such as mulching, planting, weeding, trimming, transplanting, watering and refurbishing the Outlook and pillar gardens.
Replacement of damaged posts and plaques under donated trees is underway.
Damaged trees are in the process of being replaced.
Thanks to generous donors, art in the garden installations are planned for next season.
Amazing volunteers from local businesses, Turtle Creek Landscaping and Gro-Bark provided invaluable and welcome assistance on two occasions.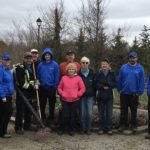 Lively young helpers from the Georgetown Beaver troop donated perennials and enjoyed planting rows of begonias along the Maple Avenue stone walls.
Community outreach efforts included displays at the Eco Film Fest, the Halton Hills Volunteer Fair, and a display in the window of Young's Pharmacy on Main Street.
Town Contributions:
The Town of Halton Hills contributed mulch and soil, rebuilt the bridge railings, and installed pavers on the path from the kiosk to the walled garden.
Staff workers totally refurbished the dry riverbed swale, and have begun enhanced weed control for the grassed areas.
The town's commitment to the garden is greatly appreciated.
Looking Ahead:
You are invited to attend The Friends' Annual General Meeting on Tuesday, March 19th at 1:00 p.m.  Details available from members.
Dates for the Annual Spring Clean Up and Planting Days will be publicized after the AGM.
Garden work resumes with the Spring Clean Up near the end of April.
Discussions about  art in the garden, an enhanced Outlook area, and other new initiatives are planned.
New volunteer garden lovers/members to our group are most welcome.      More help is always needed!
In the heart of Georgetown, Ontario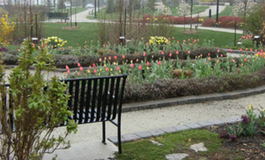 The garden is located at 135 Maple Avenue in Georgetown, Ontario. Plenty of free parking is available on-site; the parking lot is located off of Maple Avenue just north of Guelph Street (Hwy 7).
Map & directions

»
About Friends of the Old Seed House Garden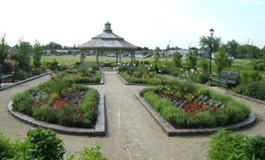 Membership in The Friends of the Old Seed House Garden is open to anyone. It is a registered charitable organization and works in partnership with the Town of Halton Hills.
Learn more about us

»
The Old Seed House Garden: Our Story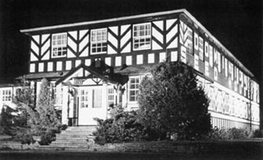 Dominion Seed House was one of the largest mail order suppliers in Canada. The iconic mock Tudor building was a landmark in Georgetown and a tourist attraction in its own right.
Learn More

»
Copyright © 2013 The Friends of the Old Seed House Garden