Spring / Summer Newsletter 2019
Spring came late this year, after a cold, icy winter. Luckily there was little damage to the garden bulbs, plants and trees.
Spring Clean-up Day proceeded as planned on April 27th, and much needed work was accomplished. Special thanks to several members of Gro-Bark (Mayfield & Winston Churchill Rd. ) who showed up for the second consecutive year to assist our members.
Planting Day was moved from May 25th to Sunday May 26th, due to the weather. Volunteers from the community garden plots joined our regular members to help dig in hundreds of colourful annuals in the many beds. The extra hands made a huge difference to the success of the day.
Donors Kind community friends continue to support the garden with generous donations each year. Many thanks to all of you who love The Old Seed House Garden.
Also Notable: Mattamy Homes, has again demonstrated their commitment to the garden. A recent major donation has been received to cover the cost of reshingling the gazebo, the garden shed and the entrance kiosk. Thanks so much!
We wish to also recognize Canadian Tire Georgetown and DG Greenhouses for their very generous donations again this year. Their ongoing support is greatly appreciated.
Wastewise of Georgetown has demonstrated their commitment to the environmental value of the OSHG with a generous gift this spring.
Exciting News
Thanks to the extraordinary generosity of two very special personal donors, we are proud to announce the installation of a trio of 3 large metal sculptures in the leafy grove next to the formal garden area. Carol Nasvytis of Soul Metal has created the beautiful, naturally rusting "Trio" especially for the Old Seed House Garden. Watch for a celebration ceremony in early August!
Accomplishments "Lilac Hill"
The outlook area, with the large seating rocks, has been totally refurbished with 5 new lilac bushes, and edged with yellow annual marigolds facing Maple Ave.
A "Purple Martin Hotel" constructed and donated by students at Georgetown District High School, has been erected along the main asphalt pathway.
Bird Houses: Another 5 colourful bird houses have been built and donated by two community members. Can you see them hidden up in the trees?
Compost Bins: Two large concrete block-walled compost bins have been built in the workshed area, thanks to the herculean labours of two strong male members of The Friends.
Celebration Event for Art in the Garden:
Tuesday, August 6th, 11:00 a.m. All welcome!
Fall Clean-up Day
Tuesday, October 15th, 9:00 a.m. Volunteers needed for this important day to help put the garden to bed for winter. Tools and refreshments provided. Volunteers are always appreciated! Every Tuesday morning 9:00 a.m. in growing season.
In the heart of Georgetown, Ontario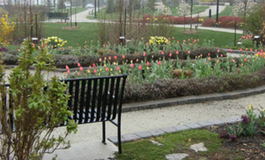 The garden is located at 135 Maple Avenue in Georgetown, Ontario. Plenty of free parking is available on-site; the parking lot is located off of Maple Avenue just north of Guelph Street (Hwy 7).
Map & directions

»
About Friends of the Old Seed House Garden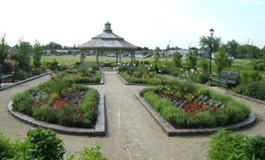 Membership in The Friends of the Old Seed House Garden is open to anyone. It is a registered charitable organization and works in partnership with the Town of Halton Hills.
Learn more about us

»
The Old Seed House Garden: Our Story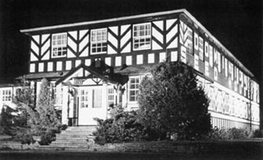 Dominion Seed House was one of the largest mail order suppliers in Canada. The iconic mock Tudor building was a landmark in Georgetown and a tourist attraction in its own right.
Learn More

»
Copyright © 2013 The Friends of the Old Seed House Garden