Public Gardens at Dominion Gardens Park
The Old Seed House Garden is a 1.8 acre public garden honouring the legacy of the Dominion Seed House in Georgetown, Ontario. A haven for people and wildlife, it features formal gardens, meandering pathways, a dry stone riverbed leading to a naturalized pond, and a walled garden nestled amongst the foundations of the famous mock-Tudor Dominion Seed House building.
Spring is one of the most beautiful seasons at The Old Seed House Garden. Hundreds of tulips and daffodils fill the beds with brilliant colour. Magnolia, pear and cherry trees blossom, the forsythias display their golden dress, and lilacs along the paths burst into bloom.
Featured in the garden are the magnificent heritage peonies. These fulsome bloomers were rescued from the original Dominion Seed House stock, and replanted in a showy array lining the formal area beds.
Visitors are welcome year-round; the garden is open to the public 365 days a year from 7AM to 11PM. Wander the paths or simply bring a book or lunch and sit on one of the welcoming benches to enjoy the flowers on a warm day. The garden constantly offers something new to see. Admission is free.
The Friends of the Old Seed House Gardens would like to thank DG Greenhouses, 8890 8th Line, Georgetown, for their donation of annuals for the Planting Days that we have in May of each year. Their generosity has greatly enhanced the gardens' displays. Please support this local business by visiting them for your garden plants.  www.dggreenhouses.com/
In the heart of Georgetown, Ontario
The garden is located at 135 Maple Avenue in Georgetown, Ontario. Plenty of free parking is available on-site; the parking lot is located off of Maple Avenue just north of Guelph Street (Hwy 7).
Map & directions

»
About Friends of the Old Seed House Garden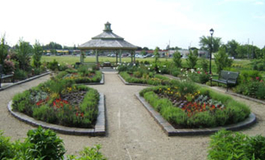 Membership in The Friends of the Old Seed House Garden is open to anyone. It is a registered charitable organization and works in partnership with the Town of Halton Hills.
Learn more about us

»
The Old Seed House Garden: Our Story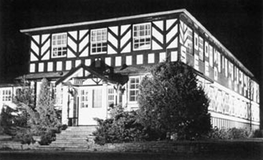 Dominion Seed House was one of the largest mail order suppliers in Canada. The iconic mock Tudor building was a landmark in Georgetown and a tourist attraction in its own right.
Learn More

»
Copyright © 2013 The Friends of the Old Seed House Garden