Spring Maintenance has begun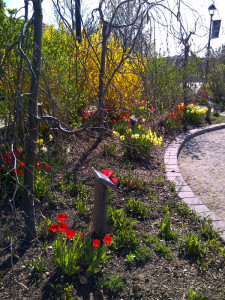 This photo captures the glory of spring bulbs in the Garden. A loyal troop of volunteers began our regular maintenance this past Tuesday morning. Mulching the trees, trimming up the lavender and digging  dandelions out of the flower beds.
There is much left to do when we return next Tuesday. All of the flower and shrub beds need weeding and digging. Mulching the trees and tidying up the paths are all on the agenda.
It seems the fabulous weather followed by a touch of rain has made for rampant weed growth.
We welcome all volunteers and provide guidance on the jobs that need doing. We even provide the spades and trowels. The fun begins at 9, weather permitting.